Managing Intellectual Property Awards 2019
By: Blanca
Date: Apr 08, 2019
Category: Blog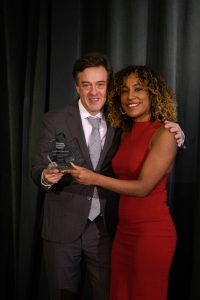 Wow, I feel like the people in feel when they get Oscars, Baftas, Goyas, Arieles and all these awards.
Thanks very much indeed for this super super honor. I just love it.
Today my wife was telling me if I loved more Alfonso Cuaron than her. My answer was that I thank him as I thank Iñarritu or del Toro or Gary Alazraki, the fourth amigo or Salma or the rest of great Mexican talents in film and Music. Thanks to my good clients Netflix, Amazon Studios, WB or Fox. Last year was a great year for the film industry in Mexico as it was for Olivares. This and upcoming years will be more exiting.
I just want to love and thank Erika and my daughters Marie and Ana Sofía.
I want to thank my Roma team, which includes Mau, Jaime, Wilma, Fer and Memo.
And want to thank my Partners all here for our 50th anniversary, Taco, Toño, Gus, Alex, Macho, Alons, Abie, Armand.
I am proud of my family, proud of my industry, proud of my firm.
Thanks and love to you my colleagues for your your support.